Hear Rosanne Cash's Powerful New Single, 'The Killing Fields'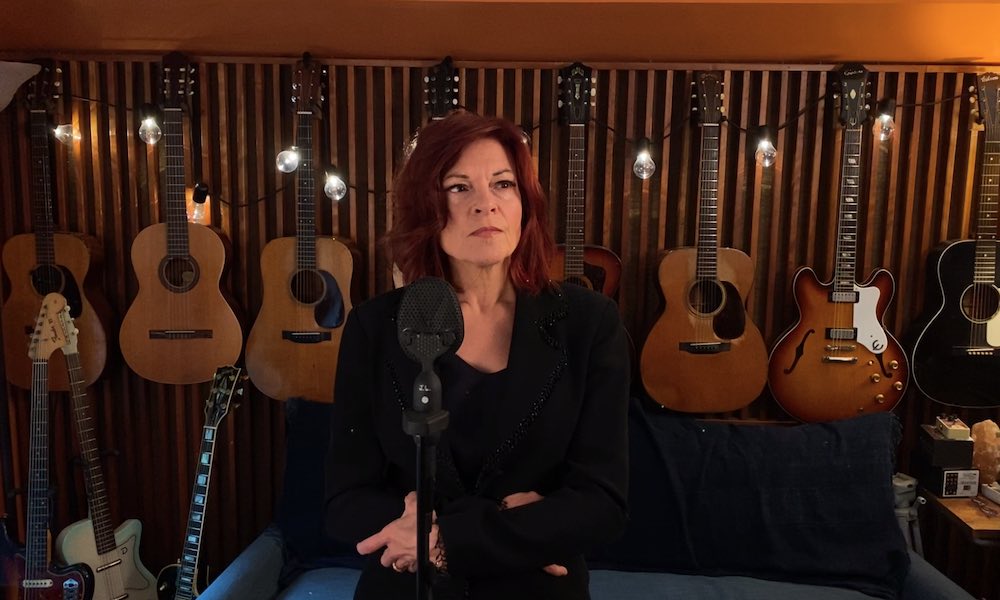 Rosanne Cash is reckoning with America's harrowing history of racism in her powerful new single, "The Killing Fields." The poignant song focuses particularly on the South's horrific act of lynchings.
"A few years of my own personal reckoning with painful issues of race, racism, privilege, reconciliation, and individual responsibility led up to the moment in the summer of 2020, when finally no one could avert their eyes from the truth of white privilege in America, and the damage and sorrow caused by systemic racism. I wrote 'The Killing Fields' in that summer," explained the Nashville-born artist in a statement.
Cash sings, "There was cotton on the killing fields/it blows down through the years/sticks to me just like a burn/fills my eyes and ears/all that came before me/is not everything I am/a girl who settled far too low/on religion and that man."
On April 9, Cash is releasing "The Killing Fields" as a limited-edition 7-inch; paring it with "Crawl Into the Promised Land." The latter song – an ode to the resilience of the human spirit – was released last fall in the lead-up to the U.S. presidential election. All proceeds from the vinyl release will benefit the Arkansas Peace & Justice Memorial Movement, an educational online memorial to commemorate the victims of lynchings in the State of Arkansas in collaboration with the Equal Justice Initiative and Coming To The Table. Cash will also offer signed copies of the 7-inch exclusively via her online store.
In an essay on her website last fall, the New York-based artist wrote about her response to the events of 2020: "The pandemic and the protests were a perfect storm of isolation, inspiration, outrage, longing, fear, and hope…But strangely, there was also a sense of transformation just around the curve, a sense of unity and community, and the potential for transcendence."
She continued, "we are confronting the systemic racism in America, in a more conscious way, and we have to decide what we will do with the overdue epiphany. The veil is lifting. Hopefully, we are taking the first steps toward reparation and reconciliation. It requires facing some very dark parts of our shared history and our individual pockets of bias and privilege."
Cash added, "The magnitude of the moment requires time and an ocean of reflection."
"Crawl Into the Promised Land"/ "The Killing Field" is available on vinyl on April 9 and can be preordered here.
'CMA Fest' Primetime Special to Air July 19th on ABC
CMA Fest, the three-hour primetime concert special set to be filmed during CMA Fest's milestone 50th anniversary in Nashville later this week, will air on July 19 on ABC.
Hosted by Dierks Bentley, Elle King and Lainey Wilson and airing at 7 p.m. CT, the special will feature never-before-seen performances and surprise collaborations from some of country's hottest acts.
" I could not be more excited to welcome Dierks, Elle and Lainey as our CMA Fest hosts this year," says Sarah Trahern, CMA Chief Executive Officer. "As fans experienced last year, the energy Dierks and Elle bring to the stage is palpable and will only be amplified with the addition of Lainey this year. Each of these artists have a deep passion for CMA Fest and the country music fans from around the globe who travel to Nashville for the event. We are thrilled to have all three of them together to help us celebrate 50 years!"
Robert Deaton is the Executive Producer and Writer for CMA Fest, and Alan Carter is the Director. 2023 marks the 20th consecutive year CMA has produced a summer concert TV special.
The post ' CMA Fest' Primetime Special Slated To Air July 19 appeared first on MusicRow.com
FlipsideMediaET eMagazine • "Everything Music"
Luke Combs 'World Tour' extended 4 New Arena Tampa's Raymond James Stadium July 7th
Luke Combs has added second nights to his upcoming " World Tour" stadium shows in Tampa, Charlotte, Foxborough and Philadelphia due to overwhelming demand.
Tickets for the new dates at Tampa's Raymond James Stadium (July 7), Charlotte's Bank of America Stadium (July 14), Foxborough's Gillette Stadium (July 21) and Philadelphia's Lincoln Financial Field (July 28) will be available for pre-sale starting June 8 at 12 p.m. local time through Ticketmaster Verified Fan. General sales will follow June 9, and Combs' official fan club, The Bootleggers, will have early access to tickets through Ticketmaster Verified Fan pre-sale starting June 8.
" After we got to play two shows in Nashville, I decided I wanted to play more shows for the fans, so I got with my team and the stadiums and luckily all of the July dates lined up for us, so we decide to just do it," says Combs. "I'm really excited to be able to bring more music to more fans."
The newly confirmed dates add to the huge success of Combs' "World Tour," which has sold over 570,500 tickets across just 11 stadium shows so far, with the majority of the tour still to come. With 44 shows across three continents and 16 countries, the tour is the largest ever for a country artist, earning Combs the No. 1 spot on Pollstar's Live75 chart, where he has more than doubled all other charting artists.
The post Luke Combs Extends 'World Tour' With Four New Stadium Shows appeared first on Tampa Bay Music News
FlipsideMediaET eMagazine • "Everything Music"
50th Anniversary Hip-Hop Concert Yankee Stadium to Feature Run-DMC, Snoop Dogg & Lil Wayne, Ice Cube and more . .
Lil Wayne, Ice Cube, Eve, Lil Kim, Remy Ma, and Trina will also perform at the celebratory event.
50th Anniversary Hip-Hop Concert at Yankee Stadium to Feature Run-DMC, Snoop Dogg & More
Alex Young
Lil Wayne, Ice Cube, Eve, Lil Kim, Remy Ma, and Trina will also perform at the celebratory event.
50th Anniversary Hip-Hop Concert at Yankee Stadium to Feature Run-DMC, Snoop Dogg & & More
. Alex Young
A star-studded lineup led by Run-DMC, Snoop Dogg, Lil Wayne, and Ice Cube will play a concert celebrating the 50th anniversary of hip-hop at Yankee Stadium in the Bronx, NY on Friday, August 11th. Other notable artists playing include the "Queens of Hip-Hop"– Eve, Lil Kim, Remy Ma, Trina, …
Please click the link below to read the full article.
50th Anniversary Hip-Hop Concert at Yankee Stadium to Feature Run-DMC, Snoop Dogg & & More
Alex Young
Music, News, Hip-Hop, Rap